Best Training Underwear Options for Pre-School Aged Children
Sending your child to pre-school can be a harrowing experience. In addition to separation anxiety, being confident your child is potty trained can cause undo stress. There is concern of embarrassment, mental strain, regression or something even worse like bullying. Studies show that it's more prevalent than you may think.
According to WebMD,
Daytime accidental wetting (diurnal enuresis) is common in younger children. Children may become so involved in play that they forget to go to the bathroom. Also, they may hold on to urine too long...about 1 out of 4 children who wet the bed at night also wet during the day.
Choosing the best training underwear options for pre-school aged children could significantly reduce your worries while boosting your child's self-confidence. The materials, technology and thin designs make for an easy transition that is inconspicuous and simple for your child to handle.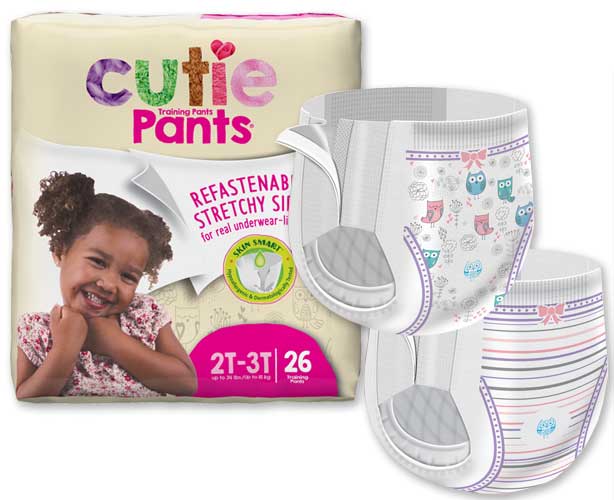 Boys and Girls Tech Design
Training pants that are geared toward gender specific designs make it easy to changeover from diapers. Cuties Refastenable Training Pants for Boys and Cuties Training Pants, Refastenable for Girls each come with unique construction that has a built in wetness alerter for when your child needs changing. The fun, gender specific characters on the outside (dancing princesses for girls and goofy pirate characters for boys) fade in color when wet. This technology is highly useful as it reduces the time a child may sit in discomfort which can be irritating to skin and cause a negative behavioral response.
In addition, the refastenable sides for each design allow for easy checking and quick changing. If your child is able, these sides increase independence as they can easily remove the training pants themselves.
There are also unisex options like WonderPants Training Pants that include Dri-Guard®, a super absorbent core that helps stop leaks before they start.
Options to Look For
It's important to look for the many options training pants offer so the best experience can be had by all. These should include:
Hypoallergenic material
Soft cloth-like outer fabric
Breathable zones
Elastic waistband
Refastenable sides
Wetness indicator
Vitamin E & aloe fabric for skin soothing and protection
Finding training pants that include these benefits means putting your child in the best underwear possible.
Overnight
Sleepovers are a fun part of childhood but getting a call at three in the morning to pick up your child because of a potty accident is not so fun.
Sleep Overs Youth Pants are the perfect training underwear options for pre-school aged children when bedwetting is still in transition. These are designed for maximum absorbency, comfort and protection.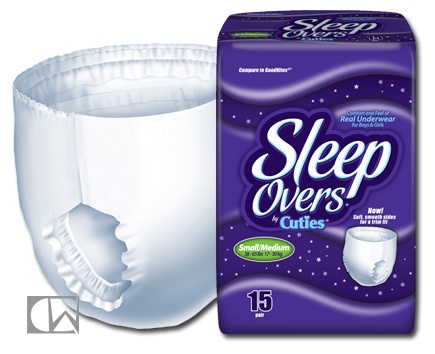 Benefits include:
Tag-less back label
Discreet, effective absorbent core
Dual leg cuffs for leakage protection
Gentle, hypoallergenic liner with aloe & vitamin E for skin support
New soft, smooth side panels for secure, discreet, underwear-like fit
Don't let a potty accident stop your child from pre-school activities or getting through the night. All it takes are otions for the best training pull-ups for pre-school aged children such as these to make life a little easier between diapers and big kid underwear.
Sources:
www.webmd.com/a-to-z-guides/tc/daytime-accidental-wetting-diurnal-enuresis-topic-overview#1

www.pottytrainingchild.com/how-to-choose-training-pants-for-your-kid/
Related Articles
< Make Baby Care Easier With CWI's Recommended Products
< Learn about Cuties Baby Diapers & Toddler Pull-ups