Convenient shipments on your schedule - Plus, shipping is only $4.95 on items over $45*
What is Repeat Delivery?
When you order Repeat Delivery Service for a product, a new shipment of the item will be sent to you based on the schedule you select. Your credit card will only be charged when it is packed and ready to be shipped, and you may cancel at any time.
Reasons to sign up
Convenient shipments of your essential supplies delivered to your door on your schedule!

Save time and

earn 2% back

on everything you buy with our CWI Customer Rewards Program for Registered Customers!

Pay regular shipping once for our Repeat Delivery Service, and any following orders for an item of $45 or more receives shipping for only $4.95.*

Check out once and never run out of your necessities again!
How does it work?
Browse our huge selection of eligible health care products. To start the Repeat Delivery Service for a product, add it to the cart, and during check-out, choose a quantity per shipment and delivery schedule during the checkout process. You'll be asked to provide a shipping address, credit card and billing address. Once the order is placed, your first shipment will be processed and your Repeat Delivery Service will be activated. Each of your next qualifying Repeat Delivery Service orders for items $45 or more receives flat fee shipping of $4.95*.

You can select a delivery schedule for your Repeat Delivery - from one to twelve weeks. You can also update your schedule in Your Account's Order History.

Your settings will be saved. We'll even send you an email to remind you when your delivery is on its way.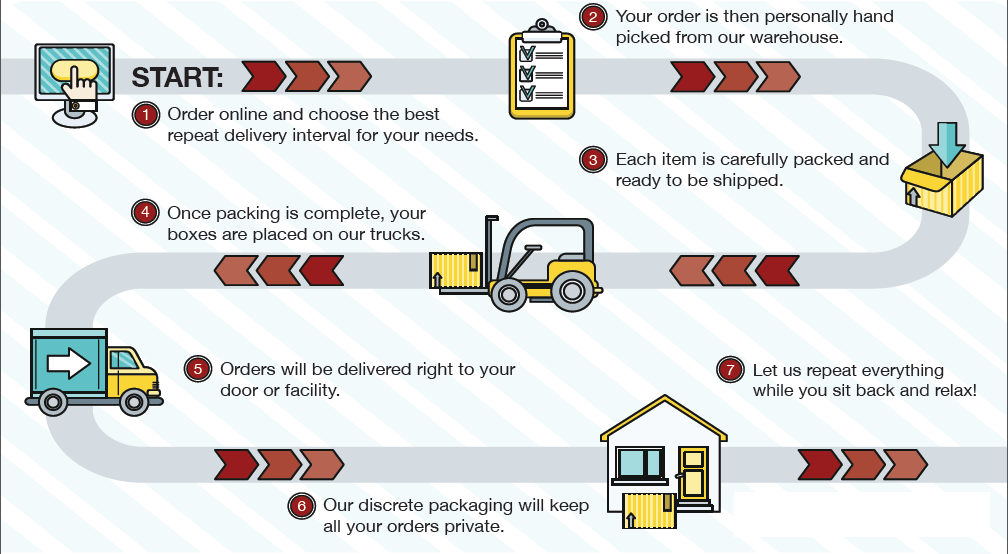 *Please note: Starting July 1, 2017, the flat-rate will be $4.95 per item per Repeat Delivery. Excludes tax, shipping, coupons, and gift card purchases. Flat fee Shipping only available within the 48 Continguous United States (Excludes Alaska, Hawaii, Puerto Rico, and Canada).
Due to weight, Case size orders for 64oz and 48oz bottles for Thickened Liquids, such as Thick & Easy and Thick-It Beverages will be $7.50 each case.