Measuring Guide for Adult Diapers
Categories ( click to jump to section )
Get the right fit! Use Our Size Wise Guide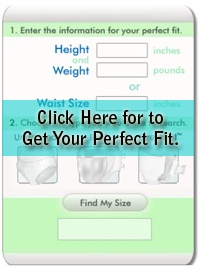 Measuring for the Correct Size Brief

1. Measure the hips or waist, whatever is larger. Measure hipbone to hipbone and over the stomach.
2. After obtaining the hipbone to hipbone measurement, double the measurement and add two inches.

Example:
Hipbone to hipbone = 22"
22" X 2 = 44" + 2" = 46"
46" measures into a large brief
Click here for instructions for measuring a person laying down

General Guidelines for Tranquility Disposable Briefs / Adult Diapers, Select and Comfortcare
| | | | | |
| --- | --- | --- | --- | --- |
| Size | Waist/Hip (Inches) | Weight (Pounds) | Women's Pant Size | Men's Pant Size |
| Youth | N/A | 28 to 42 lbs | N/A | N/A |
| X-Small | 18" to 26" | 42 to 90 lbs | 0-3 | 18-26 |
| Small | 24" to 32" | 85 to 100 lbs | 4-6 | 24-32 |
| Medium | 32" to 44" | 100 to 150 lbs | 8-12 | 32-44 |
| Large | 45" to 58" | 150 to 200 lbs | 14-18 | 44-58 |
| X-Large | 56" to 64" | 200 to 250 lbs | 18-24 | 56-64 |
| 2X-Large | 60" to 80" | 250+ lbs | 26-28 | 60+ |
| 3X-Large | 64" to 96" | 250+ lbs | 28+ | 64+ |
| 4X-Large | 70" to 106" | 250+ lbs | 28+ | 70+ |
Light Protection -

Symptom: Sudden, involuntary voiding of small amounts of urine.

Pads & Liners

Moderate Protection - Symptom: Sudden, involuntary voiding of small to moderate amounts of urine.

Pull-ups & Disposable Underwear

Heavy Protection - Symptom: Uncontrolled daily voiding of moderate to large amounts of urine and/or stool.

Pull-ups & Disposable Underwear

Maximum Protection - Symptom: Uncontrolled daily voiding of large amounts of urine and/or stool.
Ultimate Protection - Total loss of bladder and bowel control.
Types of Incontinence ( Back to Top )

Incontinence is the inability to control either urine or fecal elimination. Essentially this means that to some degree you may lose urine or bowel movements at times that you do not choose to do so.

There are six basic types of Urinary incontinence:

Stress Incontinence: an involuntary loss of small amounts of urine when you cough, laugh, lift or exercise. It can be caused by multiple vaginal births, enlarged prostate, pelvic trauma or loss of pelvic muscle tone. We recommend using a Bladder Control Pad or Male Guard s .

Urge Incontinence: inability to control urinating once you feel the need to void. Simply, you may feel the need to urinate but cannot wait to get to the bathroom. It can be caused by Alzheimer's, Parkinsonism, enlarged prostate, spinal cord injuries or urinary tract infections. We recommend using a Bladder Control Pad or Protective Underwear .

Reflex Incontinence: This is frequent loss of urine with no warning. This is due to spinal cord injuries, brain tumors or strokes. We recommend using Pull-ups or Adult Diapers .

Overflow Incontinence: Leakage of urine when the bladder is full. For example the person experiences dribbling, frequency, urgency and bladder distention. It is most commonly caused by diseases that cause a blockage of the natural passageway of urine. We recommend using a Bladder Control Pad or Disposable Pull-ups .

Functional Incontinence: incontinence caused by factors outside the urinary tract, such as immobility or cognitive impairment. These individuals would be continent if the external factor were eliminated. We recommend using Disposable Pull-Ons or Adult Diapers .

Mixed Incontinence:a combination of forms of incontinence, such as "mixed stress urge incontinence." We recommend using Protective Underwear or Adult Briefs .
Quick tips on Brief Application ( Back to Top )

1. Brief Positioning
Position the brief so that the top tape tabs are lined up with your hipbones.

2. Tug Technique
Fold the wings of the front panel back to bring the leg cuffs outward. Pull the panel up snug between the legs until the leg elastic is resting in the crease of the groin area. This will prevent leaking and redness in the inner groin area.

3. Tape Tabs
Always fasten the bottom tape tabs first on an upward angle. This will form a secure seal around the buttocks. Fasten the top tabs on a downward angle.
Using an Adult Brief - A Helpful Application Video for Caregivers

To Speak to a Specialist , Call Toll-Free at: 1-877-929-4633.
Causes of Incontinence ( Back to Top )

Stress Incontinence in Women is often the result of multiple vaginal births or a breakdown in the urethra due to decreased estrogen levels as the woman ages.

Stress Incontinence in Men can be caused by an enlarged prostate or a traumatic event to the pelvis at some time in the man's life. Obesity can also cause the muscles of the pelvis to relax and cause stress incontinence.

Urge Incontinence is most often caused by disorders of the Central Nervous System such as Alzheimer's Disease, CVA and Parkinson's Disease. Spinal cord injuries and BPH (Benign Prostatic Hypertrophy, or an enlarged Prostate) are also common causes of Urge Incontinence as are Urinary Tract Infections.

Reflex Incontinence is caused by cerebrovascular accidents, spinal cord injuries and brain tumors.

Overflow Incontinence can be caused by an outlet obstruction, BPH (enlarged prostate), Neurogenic bladder or a fecal impaction.

Functional Incontinence is caused by factors outside the urinary tract, such as immobility or cognitive impairment. The individual would be continent if the external factor was eliminated.
Talking to Your Doctor ( Back to Top )

If you find that you are experiencing any level of incontinence, it's important to discuss your options and possible treatments moving forward. Your doctor will likely work with you to make a list of any risk factors you may have that could have led to the development of incontinence, such as:
Pelvic trauma or surgery

Medication side effects or use of diuretics

Decreased fluid intake

Weakened pelvic muscles

Previous urinary tract or renal problems

Cognitive impairments

Neurormuscular impairments

Unsteady gait

Environmental hazards

Poor nutrition
Another topic of discussion in developing a treatment plan will include your urinary pattern. How frequently do you go? How much do you pass? What time of day are you urinating and are you waking at night to go to the bathroom? You will also likely be asked about your family history and your physical and cognitive limitations.

Your doctor may do some tests to determine if there are potential urinary problems that are causing your incontinence. This can be determined easily by testing for blood in the urine.

You may also be asked to monitor your fluid intake and urine output for a period of time to identify any underlying issues.
Prostate Health ( Back to Top )
The Prostate is a gland in males that surrounds the urethra. Benign prostatic hypertrophy, or an enlarged prostate, can be a very common cause of Stress Incontinence. Some symptoms of BPH include increased frequency of urination, urgency, a weakened stream and incomplete bladder emptying. 50% of men experience BPH by age 60, 90% of men report symptoms of BPH by age 85.

You should consult with your doctor about BPH. There are many surgical and pharmacological options to minimize or eliminate the symptoms.
Managing Incontinence ( Back to Top )
There are several behavioral techniques that can enhance continence. These include bowel and bladder training, relaxation techniques, biofeedback and kegel exercise. Kegel exercises are performed by tightening the pelvic floor muscles in a series of repetitions. These should be performed 30-80 times daily over a course of eight weeks.

There are also interventional strategies for incontinence if behavioral techniques cannot be performed. These include surgical interventions, pelvic muscle rehabilitation, pharmacological therapies and the use of disposable products. One surgical procedure performed in many cases is called a sling procedure. The surgeon will reposition the bladder into the correct anatomical position to enable the bladder to collect and empty urine properly. Bulking treatments use materials such as collagen to thicken the sphincters that control urine flow.

A number of different products may be used to help those living with incontinence to remain comfortable and dry. The selection of an incontinent product should correlate with the type of incontinence. The smallest/minimal product should be used to support and encourage continence and promote an individual's dignity and confidence. Some product options are bladder control pads, small liners and undergarments, pant liners and protective underwear and disposable briefs. Brief sizing is critical – the better the fit, the more comfortable the wearer and the better the absorption.
Briefs Sizing Chart ( Back to Top )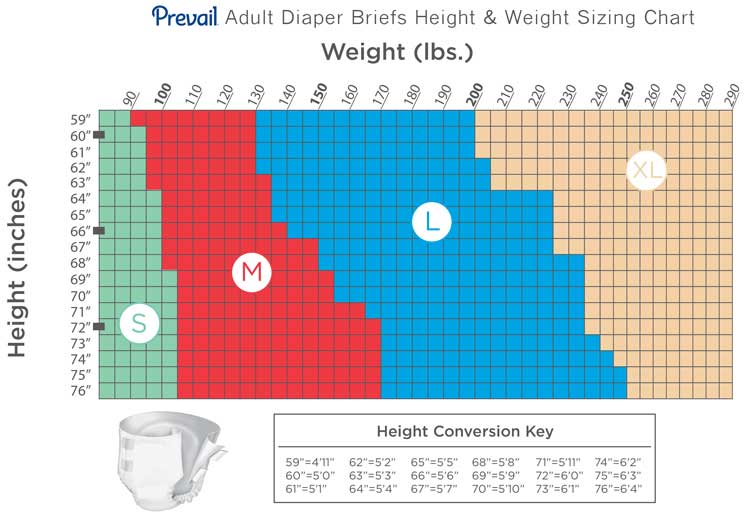 Prevail Underwear Height & Weight Size Chart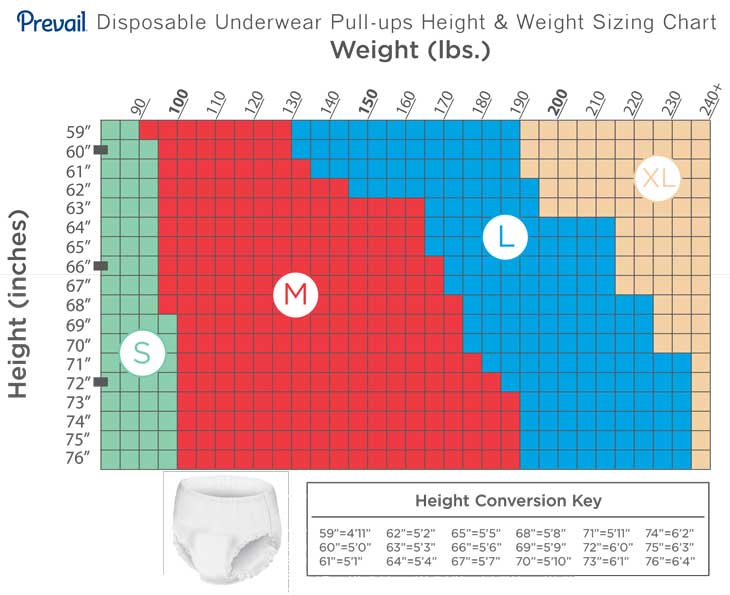 To View and Order our Trial Samples, Click Here

To View and Order Incontinence Supplies, Click Here

Placing Your First Order ( Back to Top )

We strive to make your ordering process quick and easy as possible. Please place your order online.

Find the Items You Want
Browse by Category (On Left Hand Side and with the Navigation on the Top).

Search by Keyword or Item Code (Top Right Corner).

Most Items are available by Bag or Case.

Click on an item for More Information.
Add the Items to Your Shopping Cart
Select A Size. If Applicable, Use the Dropdown to select a size.

Enter your Quantity (1 – Default Quantity).

Add Items to Your Cart.
Shopping Cart page
From here you can:
Update Your Cart: Change Quantities, Remove Items, Apply Promo Codes

Continue Shopping: Browse for Other items

Checkout: Submit Your Order
Checkout Your Order
Once You Choose to CHECKOUT the items in your Shopping Cart, you will be guided through the process of placing your order.
Sign In/Create a New Account

Edit or Keep your listed Shipping Address

Your Shipping Method is Defaulted to Ground, then Click CONTINUE CHECKOUT

Provide Payment Information
We accept all Major Credit Cards



Enter Name on Card
Card Number
Expiration Date
CVV Code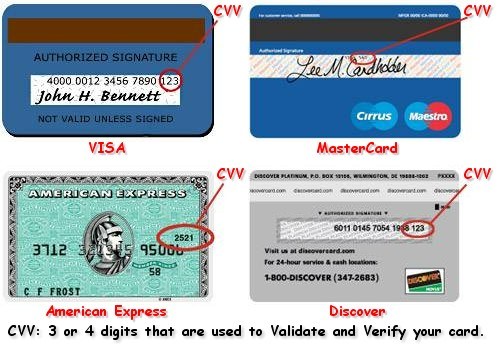 Then Click CONTINUE CHECKOUT
Review and Submit Your Order

You will receive an Order Confirmation to the Email provided

The charge will show up on your credit card statement as "CWI Medical, LLC"

Your details are 100% safe. CWIMedical.com does not share or sell your account, credit card, and order number information with any third party. Thank you so much for your order. We appreciate your business!

( Back to Top )

Related Articles
( Back to Top )