Thickened Ice Cubes for Dysphagia
It's a hot day, and you want an ice cube or 2 to keep your beverage ice cold and refreshing. However, there are those who unable to drink thinned out liquids, and can not add an ice cube. The reason is that as an ordinary ice cube melts it will further dilute and thin the consistency of the drink. This is very dangerous for those with dysphagia. Dysphagia is a medical term for swalling difficulties which can cause choking, aspiration and death. Eventually, the dysphagia patient stops adding ice and impacts the quality of life.
With the use of our thickened products, you can create thickened ice, so that you can enjoy that beverage and even as it melts. The cube of ice becomes part of the drink and maintaining the consistency needed to avoid choking. Enjoy your favorite beverage with using a straw.
In a large measured pitcher, add 32oz of water.

Add the appropriate amount of SimpleThick, based on the type of consistency needed.Stir for 30 seconds, until thickened.

For mildly thick (Level 2 Nectar) consistency, mix in 1 nectar packet or 8 pump strokes.
For moderately thick (Level 3 Honey) consistency, mix in 1 honey packet or 16 pump strokes.

Pour the thickened mixture into an ice cube tray.

Place tray into freezer to freeze.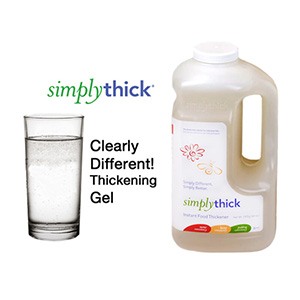 You can also use ready to drink or mix then freeze to make ice cubes